De inspiratie voor mijn textielkunst vind ik in de natuur en in de dagelijkse omgeving thuis. Mijn werk heeft over het algemeen een boodschap. Dat kan persoonlijk zijn, maar ook betrekking hebben op maatschappij en wereld. Fotograferen, tekenen en schilderen staan meestal aan de basis van mijn ontwerpen. Het is vaak een zoektocht naar eenvoud. Door een complexe vorm te abstraheren en opnieuw te tekenen kom ik daar op uit.
Het werken met transparante lagen en laagjes komt veel in mijn werk voor.
De laatste jaren heb ik voornamelijk werken gemaakt, die uitsluitend uit verschillende transparante lagen bestaan. Het hergebruik van "(plastic) afval" is ook een item waarmee ik werk maak; de "Recycling" serie.
Inmiddels heeft het fusen van glas (versmelten rond de 800º C)  ook een plek in mijn kunstenaars schap gekregen. Ik werk met het speciale voor fusen geschikte Bullseye glas. Ik ben nog aan het onderzoeken hoe ik glas en textiel met elkaar kan combineren. 
Naast mijn "werk" als kunstenaar, geef ik ook cursussen en workshops, zowel in mijn atelier als op locatie.
Statement
I find inspiration for making quilts in the nature and the area around my home.
More and more, however, I want my quilts to have a message. It can be a personal one, but also one related to society and the world.
Besides making photos, I make sketches and paintings. It often is a search for simplicity. By drawing I try to make a complicated shape abstract.
Working with transparent layers and layers is common in my work.
The last years I mainly created work, consisting only of several transparent layers. The re-use of "(plastic) waste" is also an item I make work with; the "Recycling" series.
In the meantime, the fusing of glass (melting around 800 ° C) has also been given a place in my art gallery. I work with the special Bullseye glass that is suitable for fusing. I am still investigating how I can combine glass and textile.
In addition to my "work" as an artist, I also give courses and workshops, both in my Studio and on location.
Déclaration de l'artiste
Je trouve l'inspiration pour mon travail dans la nature et
la vie quotidienne. D'une manière générale mon travail comprend un message; cela peut être personnel, soit social, oû encore universel.
Chaque projet démarre avec un dessin, une photo ou de la peinture, en recherchant la simplicité.
Mes travaux sont souvent composés par plusieures couches de tissus et fibres, surtout ces trois dernières années, oû j'ai utilisés principalement des tissus transparants.
Le recyclage (plastique) apparaît aussi dans mes oeuvres, p.ex. "Recycling".
Entre-temps, la fusion du verre (fondant autour de 800 ° C) a également trouvé une place dans ma galerie d'art. Je travaille avec le verre spécial Bullseye qui convient à la fusion. J'étudie toujours comment combiner le verre et le textile.
A coté de mon travail d'artiste, je donne des cours et workshops, aussi bien a mon atelier, que a l'extérieur.
Statement
Die Inspiration für meine Arbeit finde iche in der Natur und in meiner alltäglichen Umgebung bei mir zu Hause. Meine Werke tragen meistens eine Botschaft aus. Die kann persönlich sein, aber sich auch auf die Gesellschaft und auf die Welt beziehen. Fotografieren, Zeichnen und Malen bilden meistens die Basis für meine Entwürfe. Es oft ein Suchen nach Schlichtheit. Ich finde die, indem ich eine komplexe Form abstrahiere und aufs Neue zeichne.
Auch die Arbeit mit transparenten Schichten, dick oder dünn, ist üblich in meiner Arbeit.
Die letzten Jahre habe ich vor allem Kunstwerke gemacht, die nur aus mehreren transparenten Schichten bestehen. Die Weiterverwendung von "(Plastik)abfall" ist auch ein Element, woraus ich Arbeiten mache: die sog. "Recycling"-Serie.
Inzwischen hat auch das Schmelzen von Glas (Schmelzen um 800 ° C) einen Platz in meiner Kunstgalerie bekommen. Ich arbeite mit dem speziellen Bullseye-Glas, das zum Schmelzen geeignet ist. Ich untersuche immer noch, wie ich Glas und Textil kombinieren kann.
Neben meiner "Arbeit" als Künstler, gebe ich auch Kurse und Workshops, sowohl in meinem Studio als auch vor Ort.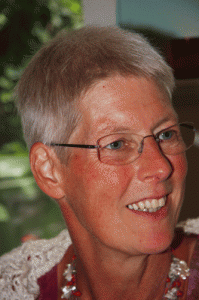 CURRICULUM VITAE
Ervaring / Experiences.
2016 – Jurylid wedstrijd "Vlucht" festival van het Noorden / Jury member competition                     festival van het Noorden.
2014 – Jurylid wedstrijd "Denken" festival van het Noorden / Jury member competition                   festival van het Noorden.
2013 – Jurylid Art Quilts Algemene tentoonstelling Quiltersgilde / Jury member Art                           Quilts of the Dutch Quilters Guild.
2013 – Docente workshops PPM in Praag / Course instructor workshops PPM in Prague.
2011 – Docente workshops Festival of Quilts in Birmingham / Course instructor in                             Birmingham.
2009 – heden. Lid kunstkring NW Veluwe / Member Art Club, region NW Veluwe
2008 – Docente workshops bij Zijdelings / Course instructor by textile studio Zijdelings.
2008 – Docente van een masterclass voor textiel docenten / Course instructor for a                           masterclass of textile masters.
2007 – Docente workshops in het Nederlands Textielmuseum te Tilburg / Course                               instructor by Dutch textile Museum
2007 – Lid selectiecommissie Algemene tentoonstelling Quiltersgilde / Selection member                 for the General exhibition of the Dutch Quilters Guild.
2007 – Docente 2-daagse workshop plastic voor het Quiltersgilde / Course instructor 2-                   days workshop plastic for the Dutch Quilters Guild.
2006 – 2013 – Lid Duits – Nederlands textielkunstenaarscollectief Meer-Art / Member
               of  the Dutch – German textile group Mensch und Meer.
2005 – Jurylid voor de wedstrijd "Groeten met wereldstoffen" / Jury member of the quilt                 competion "Greetings with fabrics of the world"
2002 – Mede organisator tentoonstelling van mini-quilts in Barneveld / Co-organizator                    of  the exebition of miniature-quilts of the Dutch Quilters Guild.
2002 – 2014 – Lid textielkunstenaarscollectief TeXui / Member of the art textile group                     TeXui.
2002 – heden. Regelt samen met Ilse Sprik de Quiltexpresse / Organize together Ilse                       Sprik the logistic of the quilts for the exhibitions of the Dutch Quilters Guild.
2001 – 2010 – Regiovertegenwoordigster van het Quiltersgilde samen met Gonny de                         Bekker-Jespers / District representative of the Dutch Quilters Guild together                         Gonny de Bekker-Jespers.
1996 – heden – Docente patchwork en textielkunst / Course instructor patchwork and                     quilting and textile art.
1984 – heden. – Docente kantklossen / Course instructor bobbin lace.
Opleiding / Education.
2007 – Masterclass Quilten speciaal met Linda Colsh en Jette Clover / Masterclass                             organisized by "Art factor" with Jette Clover and Linda Colsh.
1992 – 2009 – Centrum voor de kunsten – Harderwijk; teken – en schilderlessen bij                          Carla van der Heijde / Art school Harderwijk; sketch and paint course by                                the artist Carla van der Heijde.
*   Diverse cursussen en workshops bij o.a. : Jette Clover, Joan Schulze,Cherilyn Martin,          Dijanne Cevaal, Iny Hummelink, Hanneke Parmentier, Mieke Veerkamp, Carla van              Laar, Elly Nederpelt / Several courses and workshops by; Jette Clover, Joan                            Schulze,Cherilyn Martin, Dijanne Cevaal, Iny Hummelink, Hanneke Parmentier,                  Mieke Veerkamp, Carla van Laar, Elly Nederpelt.
*   Zelfstudie uit vele quiltboeken, quilttijdschriften en kunstboeken / Private study                    from many quilt books, quilt magazines and art books.
2002 – Tweejarige kader cursus Quilten Speciaal / Two-year course 'Quilten Speciaal'                       from the SBA, Utrecht.
1987 – Akte K en akte U / Three-year course specialization teacher textile, incl. second                      degree teaching qualification.
1980 – VSID-kdv / Certificate special needs persons.
1978 – Akte A en B Kleuteronderwijs / Certificate A and B nursery school teacher.
Solo en duo exposities / Solo and duo exhibitions
2022 –   Nunspeet (kunstroute)
2019 –    Nunspeet (kunstroute),
2018 –    Nunspeet (kunstroute),
2017 –    Festival De Weeribben.
2016 –   April t/m juni in de Hoofdhof kerk te Zwolle.
                Nunspeet (kunstroute)
                November t/m januari 2017 Veluvine te Nunspeet.(duo)
2015 –   Festival de fil en fil en pays de Chabeuil (Fr)
                Nunspeet (kunstroute),
2014 –   Conferentiecentrum Mennorode te Elsspeet (duo),
                Festival van het Noorden in de kerk van Rottum
                Nunspeet (kunstroute)
2013 –   Nunspeet (kunstroute)
2011 –    Festival "De fil en fil" in Chabeuil (Frankrijk)
2010 –   L' Art du quilt – Morzine (Frankrijk)
                Galerie Steenwijk (duo)
2009 –  Vrije academie Nunspeet
2008 –  Plantagekerk in Harderwijk
2006 –  Galerie / atelier "De Naaidoos
1998 –   Bibliotheek van Harderwijk
1997 –   Verpleeghuis "De Wijngaard" in Bosch en Duin
Prijzen / Awards
2013 –  2e prijs Art Textile bij de wedstrijd "Regard sur la ville" in Parijs/Châtillon (Fr)                                     "IJsselstein".
2011 –  1e prijs Textielkunst bij de wedstrijd  "La nature est mon amie" in Châtillon (Fr)                                    "de dode boom".
2008 – 2e prijs contempory quilts van "Patch Montagne" in Morzine (Fr)                                                             "Memories I"
2005 – 3e prijs European Quilt Championships te Waalre; categorie Advanced
                            "De cirkel van het leven van mijn moeder"
2005 – Originaliteitsprijs van de Association Patchwork La Courtepointe in Morzine (Fr)                                                    "De cirkel van het leven van mijn moeder"